Epic battles Between Pokémon and Kogei
Put Pokémon and Kogei face to face, and what sorts of chemical reactions will occur? Twenty craft artists, from a Living National Treasure to youngsters, have seriously tackled that question. Works that evoke Pokémon shapes, gestures, touch. Works that reach back into memories of video games—evolution, trade, locations for journey, super-effective moves. Plus invitations to Pokémon to become part of the vessels that adorn our daily lives and even ultra cool attire—kimono and obi clasps.
The result is about 70 works—all new creations! What will your encounter with the works lying in wait for you in the exhibition gallery bring? Thrills, rapture, grins, tremors? The power of multiplication rides again! Please enjoy the quantum leaps in beauty and technique it has generated.
National Crafts Museum
Official Catalog
POKÉMON
X

KOGEI
PLAYFUL ENCOUNTERS OF POKÉMON AND JAPANESE CRAFT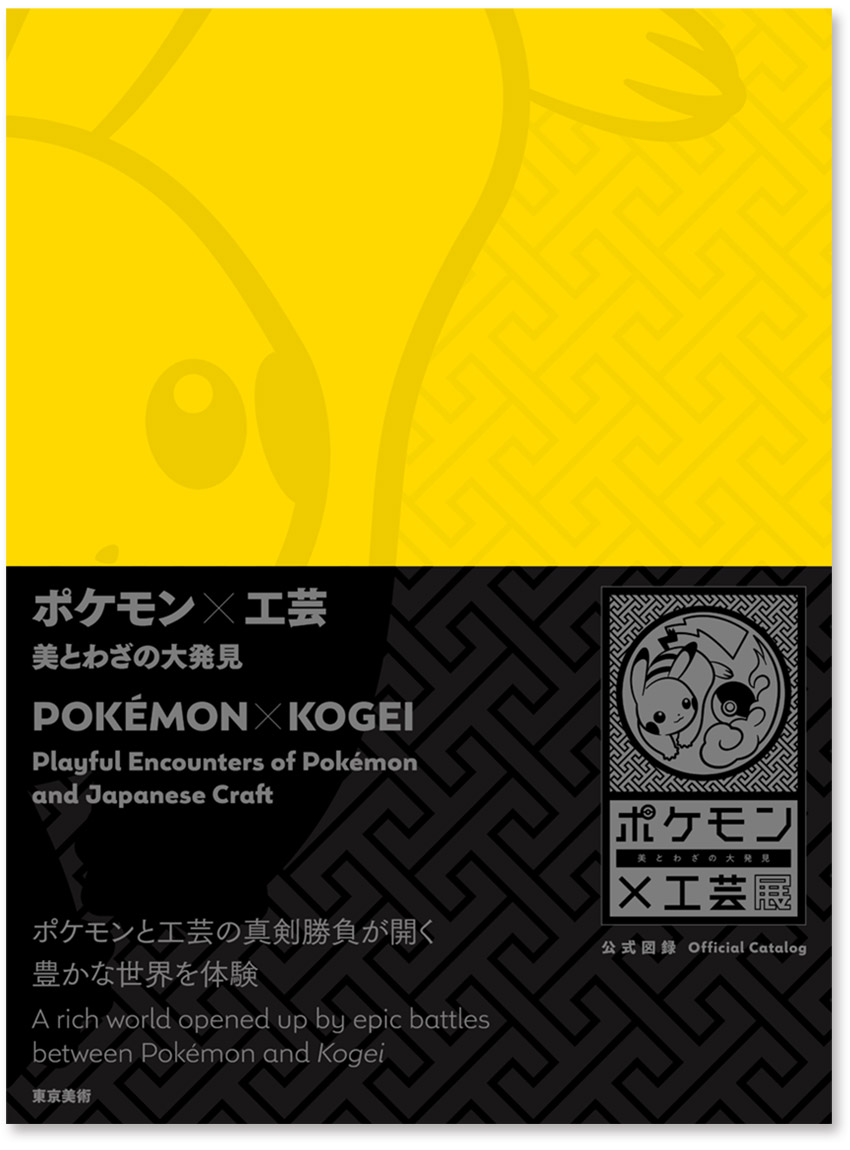 Price

3,300 yen (include tax)

Edition

April 6, 2023 (First)

Dimensions

7.36 x 10.43 x 0.78 inches

Paperback

168 pages

ISBN

9784808712686

Supervisor

National Crafts Museum

Text

Masahiro Karasawa (National Crafts Museum), Yoko Imai (National Crafts Museum)

Publisher
*Quantities are limited.
*Product image for illustration purposes only. Actual product may vary.
POKÉMON
X
KOGEI
Playful Encounters of Pokémon and Japanese Craft
Exhibition Information
Artists

Terumasa Ikeda,

Kazumi Ikemoto,

Sadamasa Imai,

Kasumi Ueba,

Morihito Katsura,

Takuro Kuwata,

Yasuyoshi Komiya,

Eiichi Shiroma,

Reiko Sudo,

Yoshiaki Taguchi,

Nobuyuki Tanaka,

Yuki Tsuboshima,

Hiroki Niimi,

Shigeki Hayashi,

Yuki Hayama,

Toru Fukuda,

Keiko Masumoto,

Saori Mizuhashi,

Haruo Mitsuta,

Taiichiro Yoshida
Venue
July 25, 2023 - January 7, 2024

Location

Ovation Hollywood
6801 Hollywood Boulevard, Level 2
Los Angeles, CA 90028 USA

Hours

Mon. - Fri. | 11:00 AM - 7:00 PM
Sat. - Sun. | 11:00 AM - 8:00 PM

Presented by

JAPAN HOUSE Los Angeles

Curatorial Supervision

National Crafts Museum

With support from

The Pokémon Company, The Pokémon Company International, NHK Promotions Inc.

Facilities Information

* The schedule of upcoming exhibition will be posted on this website

Past Exhibitions

Location

3-2 Dewa-machi, Kanazawa, Ishikawa 920-0963, Japan

Organizer

National Crafts Museum, NHK ENTERPRISES INC. Nagoya Branch Office, The Yomiuri Shimbun Hokuriku Branch Office

Special cooperation

The Pokémon Company

Produced

NHK Promotions Inc.

Supported

Ishikawa Prefecture
Kanazawa City
THE HOKKOKU SHIMBUN
Television Kanazawa Corporation

Facilities Information